WEB SUCCESS BLOG
WEBSITE: PROFESSIONALLY DESIGNED or DIY ?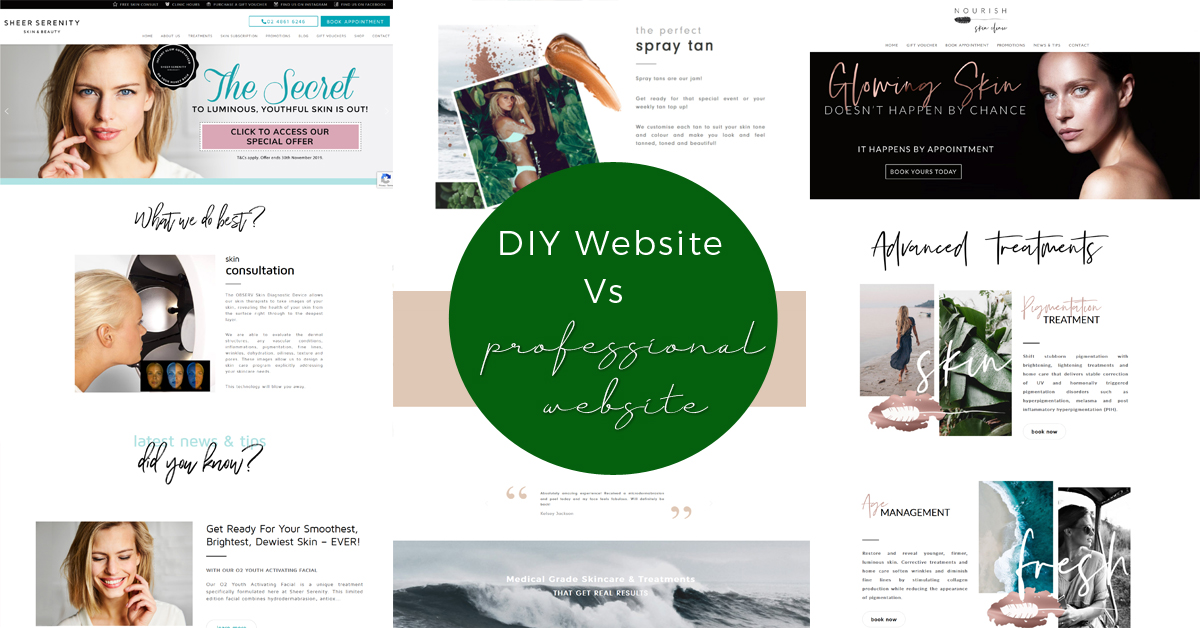 So you need a new website and you're wondering: "should I try to do it myself to save money or should I spend a few thousand and hire a professional?"
Now, as a website designer myself who loves to design websites, I tend to favour the professional approach. But let's look at the PROS and the CONS of these two options:
DO IT YOURSELF (DIY)
If your business is new and you have no budget, you'll have to hold off on getting a website or consider building a simple site yourself. DIY website can get you started using a basic web building platform like Wix, Weebly, or Squarespace. These platforms make it easy to get started with templates (which is positive), but become difficult to do any customization (which is negative).
If you consider yourself to be an amateur graphic designer and have reasonable tech skills, then you are in a good position to attempt building your own website. You are not a professional web designer so the best result you should expect from a DIY site is an "Ok Website". It won't cost you a lot of money, but you will need to invest a significant amount of your time.
If you DIY, you'll need to be patient as the frustration will be a major issue. These DIY website platforms show advertisements that make it seem like it is easy to DIY, but in the end, it is very time consuming and can be challenging.
You will save on not having to pay a web developer, but you need to accept that your DIY website will end up looking home-made.
The 3 main negative issues with a DIY website:
SUB STANDARD WEBSITE: The end result will be an amateurish website, that you are never quite happy with. Your clients are on the Internet regularly, they have come to expect professional web experiences. A poor quality website reflects badly on your business and service. The question you need to ask yourself is: "Is an amateurish website acceptable for my business?"
TIME CONSUMING: When you embark on a DIY website, it starts out easy enough, but it won't take long until you realise this project is going to require a significant amount of your valuable time. The question you need to ask yourself is: "would my time be better spent focusing my attention on making money through my business and focusing on serving my clients instead?"
CUSTOMIZATION LIMITATIONS: The DIY website are based on rigid templates.  This makes it easier for a non-professional web developer to build a site.  The question you need to ask yourself is: "Can I accept a generic website or do I want to be able to customize the site to suit my business, my services, my brands, my products and make it perfect for my clients?"
PROFESSIONAL WEB DESIGNER
If a beautiful website and a strong brand message that says: "WE DELIVER QUALITY" is important to your business, then definitely hire a professional web developer. Not just any web developer, you are looking for a specialist that is experienced in your industry. If done right, your website will be your number one marketing tool.
Ideally find a web designer who specialises in the Beauty & Salon Industry. You want a web developer who can guide you to the best results, they will be able to use and suggest the right tools and plugins to help make your salon successful online… a quality website can increase your bookings and sales.
The quality of your website directly reflects on the perception that clients have about your business and service, so if you want to be known for quality, you definitely want to have a high-quality website.
The main considerations with HIRING A PROFESSIONAL WEB DEVELOPER:
HIGH QUALITY: If you want your business and service to be known for QUALITY, then you need to convey quality. Branding is the message that you convey to your clients, so make sure that the message you are conveying is the right message for your salon.
BUDGET: Professional web design requires a budget. I suggest that you get your plan together and get quotes. Not all web designers are equal so get recommendations and check their past work by looking at the sites they have designed and built.
RECOMMENDATIONS: The wrong web designer can cost you a lot of time and money… so be careful. Speak to the people in your industry that have beautiful websites and ask if they were happy with their web designer. When you are negotiating with a web designer, contact a few of their clients and find out what experience they had.
GUIDANCE: Choose a web developer that is a great communicator, make sure they are always easy to contact, they are helpful and honest (up-front). Just like you are an expert on beauty and skin, the web designer should be a true expert on websites that get results.
RESULTS FOCUSED: Make sure the designer includes customised features focused on sales conversion and persuasion. Highlighting links to your online booking system, gift vouchers, current promotions, etc. The key here is to provide easy online service and direct your clients to your most important web content that achieves your sales goals.
ONGOING SUPPORT AND MAINTENANCE: Once your website is live, you'll need support and help from time-to-time. For example you may be changing services, treatments, prices, staff… so before choosing a website developer, find out how they handle ongoing support? How do they charge for website updates and helping you in the future?
SAVE TIME AND FRUSTRATION:  The key to your business success will come from serving your clients… not from learning new software and learning how to be a web developer.  So you need to employ a web developer that has a proven track record for delivering great design and making the entire process easy and stress free.
SUMMARY
When deciding between HIRING A PROFESSIONAL WEB DESIGNER or a DIY (Do It Yourself) approach, it's important to know that either way it will cost you (cost your time or cost you money), so your budget and results need to be considered.
If you want a website that will increase your business, then hiring a professional web designer is a no brainer, the investment can quickly pay for itself – when done right, incredible ROI !!
ANY QUESTIONS?
Feel free to send me an email with any questions: luke@lukehayes.com.au
I'm also available if you want to have a no obligation, free discovery phone meeting.
Luke Hayes Web Design
Founded in 2000 with offices in Sydney Australia.  Our mission is to provide beautiful designs and excellent support for our clients, keeping within their budget through affordable web solutions.  To help our clients reach their business goals and maximise their profits.